Thomas Town at Kennywood™ – A FamilyFunPittsburgh Know Before You Go Guide
Thomas and the Really Useful Engines have set up shop at Thomas Town in Kennywood Park.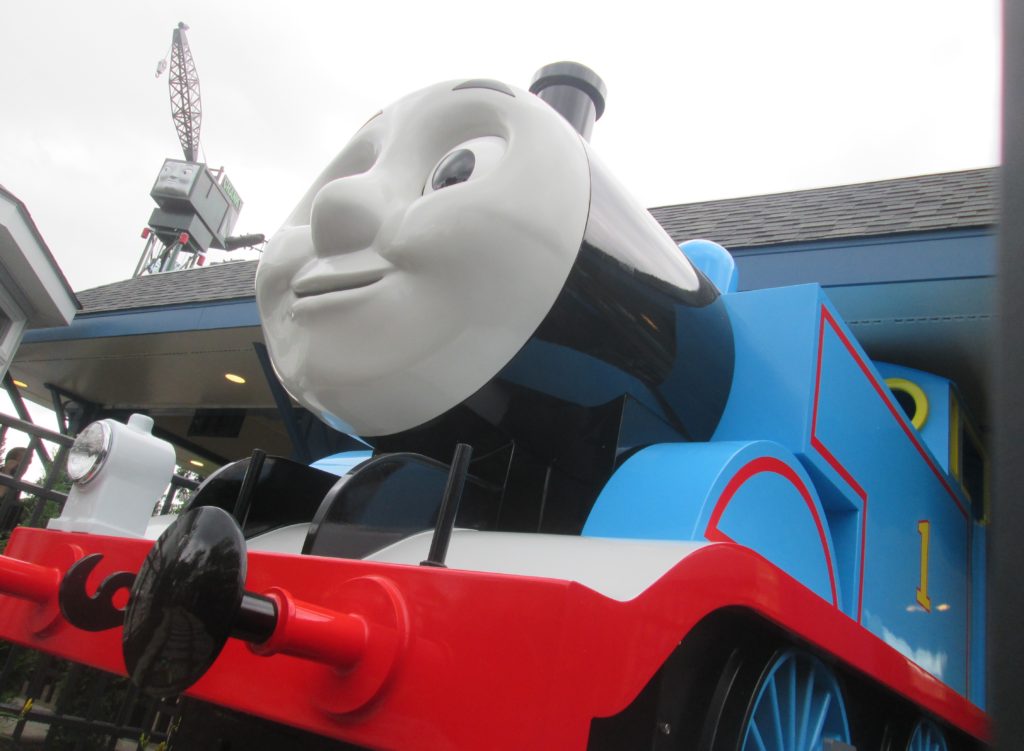 Thomas is chugging along the tracks at Kennywood Park while Cranky, Harold, Flynn, and the Diesels each host their own rides. Sir Topham Hatt greets guests while Percy, James, Emily, and Gordon have their own show, Steel City Adventures™, at Tidmouth Sheds. Thomas fans young and old will love Thomas Town … and once they are ready to leave Sodor, there is all of Kennywood Park to fill out the day, including the new Thomas Movie at the 4D Theater (for a limited time).
Quick Glance:
Thomas Town™ is worth the trip to Kennywood.
Thomas himself pulls passenger cars along the Kennywood Railroad Tracks. It is truly a magical site even for older Thomas fans.
The new rides are fun for all ages: Harold and the Diesel Drivers are best for the younger crowd, Flynn is fun for bigger Kids, Cranky is exciting for the biggest Kids.
The new show is a rolling good time.
The Thomas & Friends™ Big Adventures Soft Play Area is a great place to let off steam but SOCKS MUST BE WORN in Knapford Station so be prepared. No bare feet!
Thomas Town has a well-stocked Gift Shop.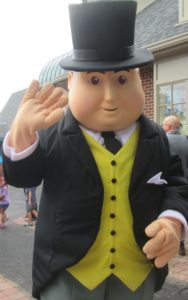 Journey with Thomas is open for Holiday Lights!
Thomas Town™ is nestled next to the Kennywood Railway and the Auto Race, just outside of Kiddieland. The entrance is near the Fish Pond. Sir Topham Hatt himself will be greeting guests at various times throughout the day. Thomas Town has one entrance and exit, making it a self-contained area within Kennywood.
As you enter Thomas Town, the Thomas Town Gift Co. gift shop and the Thomas & Friends™ Big Adventures Soft Play Area are to the right, inside Knapford Station. Flynn's Fire Training Ride is to the left. Next to Flynn is the Diesel Drivers Ride featuring everyone's favorite Sodor Diesels. The Midway Game and a Really Useful Train Station seating area are near the two rides. Tired parents can rest while their children ride.
Harold's Helicopter Tour is tucked into the far corner of Thomas Town.
The rest of Thomas Town lies across the Sodor Railroad tracks. The tracks are protected by fencing to keep excited youngsters safe. There is a railroad crossing protected by standard railroad crossing gates but for the moment, Kennywood has two human crossing guards with manually operated chains blocking off the tracks when Thomas chugs past. This is still an area where you want to make sure your kids are safe.
Once you cross the tracks the rest of Sodor awaits. Cranky's Drop Tower is straight ahead. To the left is Tidmouth Sheds where Percy, James, Emily, and Gordon wait for their next show. The entrance to Journey with Thomas is next to Cranky. Note: This is a change from the Old Kennywood Railroad entry which used to be next to the Auto Race. The new Party Pavilion is also in this area.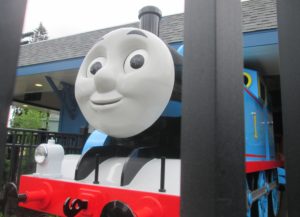 Journey with Thomas
The true highlight of Thomas Town is Journey with Thomas. Thomas proves he is a Really Useful Engine by pulling passenger cars around the Kennywood Railroad tracks. Thomas welcomes passengers on board while Thomas songs play throughout the ride along the tracks of Kennywood's railway. The turn-around features Postcards from Sodor. The Kennywood tradition of passengers waving from the train has taken on a new life as children, parents, and fans waved and waved at Thomas.
The entrance to Journey with Thomas is in Thomas Town. Lines will most likely be long as everyone wants to ride Thomas. Picsol, the picture company, has a special Thomas offer for Journey with Thomas line-dwellers. Thomas fans can have their picture taken while waiting in line and choose a Thomas-themed "Official Driver" license. Choose from Thomas, Harold, or Flynn. Pick up your license at the exit after your train ride. Each license costs $15.00.
Journey with Thomas is a FamilyFun Ride. All ages are welcome including handheld infants. There is a stroller parking area near the entrance to the line.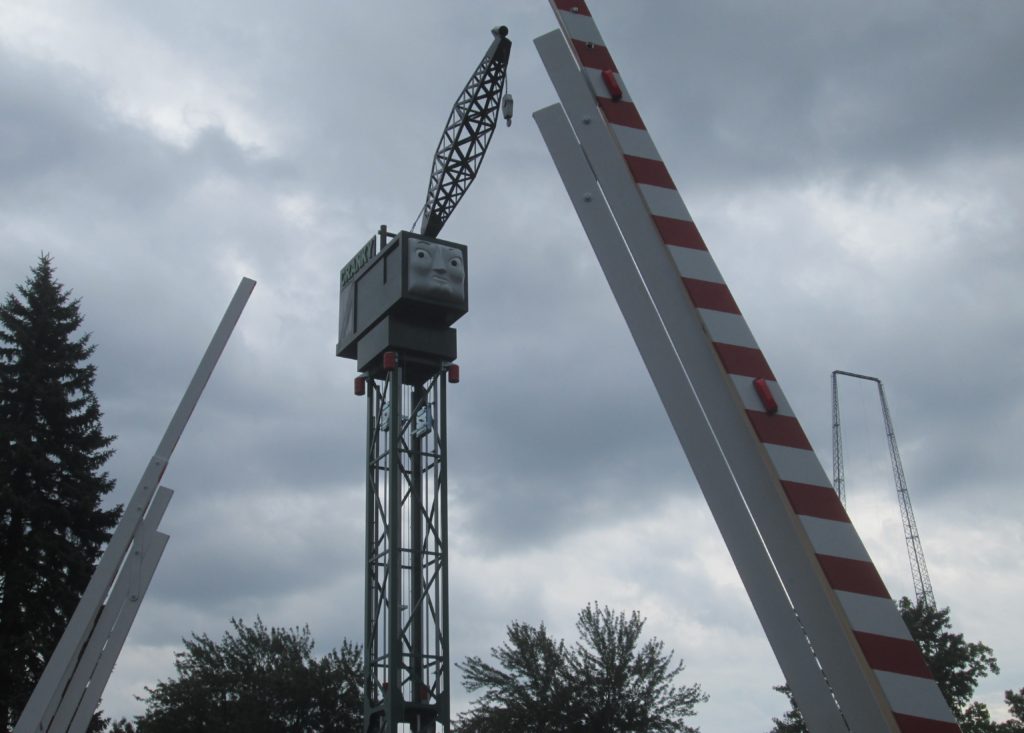 Cranky's Drop Tower
Cranky the Crane lifts riders high above Sodor in a classic drop ride. Twelve riders are loaded up onto Cranky. The over-the-shoulder harnesses are the same as the harnesses on the Black Widow. Do not fear. While Cranky is the most extreme ride in Thomas Town, it is still safe and fun for older kids, tweens, teens, and parents. Cranky hauls riders up and then drops them. As they bounce their way to the ground he pulls them up again and again until they are finally lowered to down. Cranky was FamilyFunPittsburgh's favorite ride in Thomas Town.
Cranky's height limit is 42" tall, the same height as the Jack Rabbit. Like all Kiddieland rides, Cranky's entrance and exit are almost next to each other and near the entrance to Journey with Thomas. This may cause crowd issues on busier days. The harnesses are lowered and locked and raised by the ride attendants making loading and unloading a bit long. Cranky is closed during inclement weather and when electrical storms are nearby.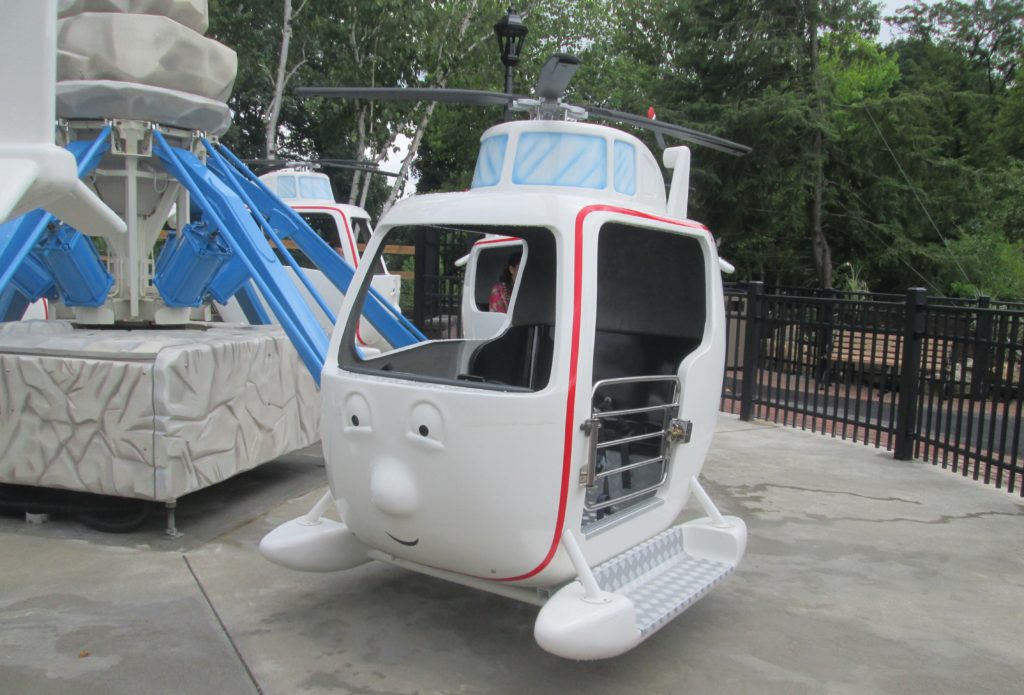 Harold's Helicopter Tour
Harold the Helicopter gives kids a tour of his corner of Thomas Town. Guests climb into Harold for a circular ride. The two front seats have flying yolks (steering wheels) for kids to play with. There is also a single lever that controls the up and down motion of their Harold. This is a classic Kiddieland-style ride. Harold himself welcomes guests on-board and gives the safety instructions.
There are six Harolds. Each Harold holds four passengers – either four children or one adult and three children though the adult will be pretty tight. Kids 36″ tall and under must ride with a Responsible Person over the age of 16, there is no upper height restriction meaning everyone (even parents) can ride but handheld infants (children who cannot walk on their own are handheld infants) cannot ride. Ride attendants may ask you to show that your child can walk on their own. Each seat has a safety belt. The ride's entrance and exit are next to each other making the area crowded .
Harold is aimed at the younger crowd. Toddlers and Preschoolers will need a responsible person to ride with them. Kids and Tweens may want to ride as well but Teens may find it really tight.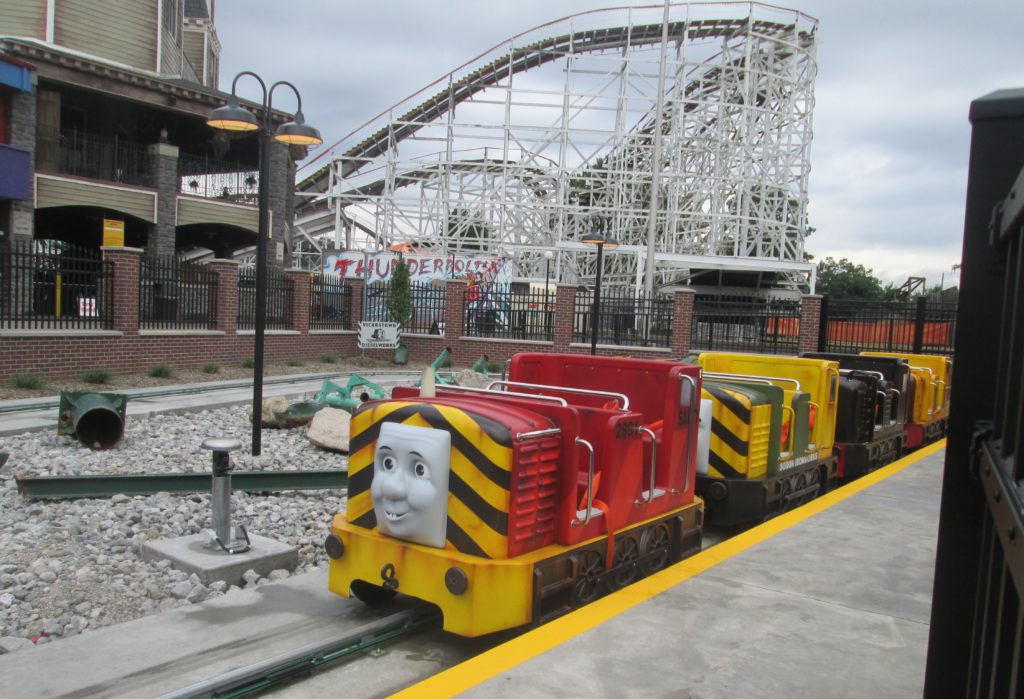 Diesel Drivers
Sodor's Diesel Engines get their own ride in Thomas Town. The Diesels chug along an oval track in a classic Kiddieland train ride. Salty gives the safety instructions and greets the guests. The Diesels take two laps around the track.
There are four Diesels and each Diesel seats four riders. One of the riders can be an adult. There is a seatbelt safety restraint. The seatbelt must be unlocked by the ride operator. Kids under 36″ must ride with a Responsible Person, there is no upper height limit, and handheld infants are not allowed. Children must be able to walk on their own to the ride and operators may ask you to show your child can walk.
The Diesels chug along very slowly making this a great ride for Toddlers, Preschoolers, and Kids and their adults.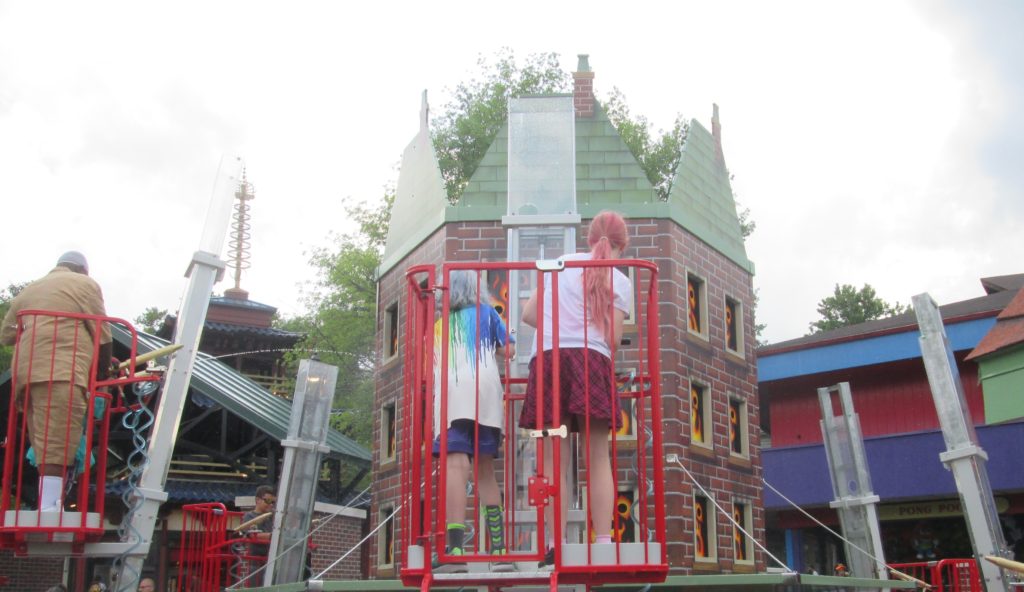 Flynn's Fire Training
Flynn invites guests to train as junior firefighters. This interactive ride is truly unique. Riders stand on a platform in the back of Flynn and use water guns to aim at the "fires" in the central tower. The rider's platform goes up and down as Flynn travels around the circular track. Riders may get a bit of spray from their fire hoses but they cannot hit the other riders. The rider's platform is surrounded by safety rails and plexiglass. Ride operators must unlock the platforms at the end of the ride.
Flynn greets the riders and gives the safety instructions. There are six Flynn's on the circular track. Each platform holds two junior firefighters/riders. Flynn had a lot of mechanical problems on opening day and was closed for part of the day but it is a truly unique and fun ride experience. The line for Flynn was long, stretching out of Thomas Town at times.
Kids 36″ and under must ride with a Responsible Person, there is no upper height limit, and handheld infants cannot ride. While younger children can ride Flynn, most found the firefighting element difficult. Younger children may have a hard time reaching their water hoses. Flynn is best for bigger Preschoolers, Kids and Tweens. The parents that rode on Flynn seemed to be having a fun time too.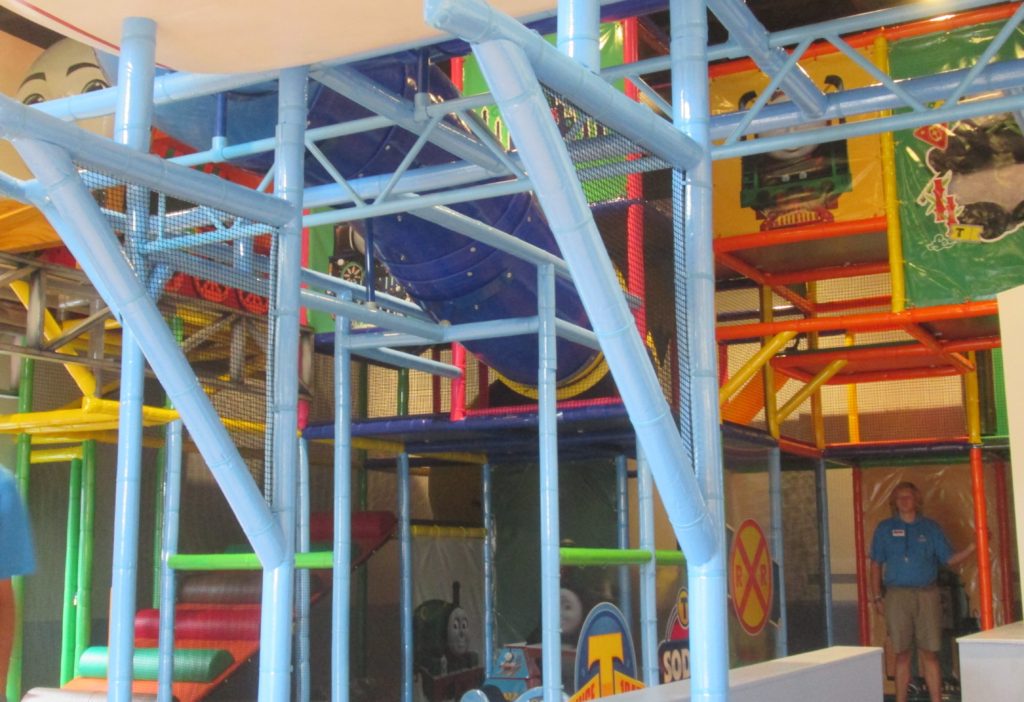 Thomas & Friends™ Big Adventures Soft Play Area
The Thomas & Friends Big Adventures Soft Play Area is attached to the extensive Thomas Town Gift Co. Gift Shop inside Knapford Station. It is a classic play area (think McDonalds but a lot nicer) with soft climbing ladders, hanging obstacles, and a slide. Kids can climb through and around Harold, Emily, and Percy. The two-story play structure is completely enclosed for safety. There is a ground-level play room with soft play obstacles for children who are too young to climb the larger play structure.
If everyone needs a break, there is a small media room with cushions on the floor where kids can lay down and watch Thomas videos. There is also a small Thomas wood train set that Toddlers, Preschoolers, and smaller Kids will enjoy playing with.
While the rides are the big, obvious attractions in Thomas Town, once children discovered Knapford Station parents had a hard time getting them to leave. Between the Play Area and the Gift Shop, kids wanted to stay and play (and for their parents to pay for all of the Thomas gear).
The Big Adventure Play Area is for children 2-12. Shoes are NOT permitted in the Play Area. There are cubbies to store shoes near the media room area. SOCKS MUST BE WORN. Once again, socks must be worn in the play area so if you usually take your kids to Kennywood in sandals, flipflops or crocks, they will NOT be allowed to play in Knapford Station with bare feet. No food, drinks, or gum is allowed in the play area. No horseplay or dangerous play is allowed. Climbing on the outside of the play structure is not allowed. Children must be under adult supervision. One person on the slide at time, feet first only. There are attendants in the soft play area and children must follow all rules while playing.
There are four benches for parents to rest on while their children play. There is also one Family Bathroom at Knapford Station. It is the only bathroom in Thomas Town. The next nearest bathrooms are the Women's and Men's bathrooms near Ghostwood and the Thunderbolt and Family Bathrooms and boy's and girl's bathrooms in Kiddieland.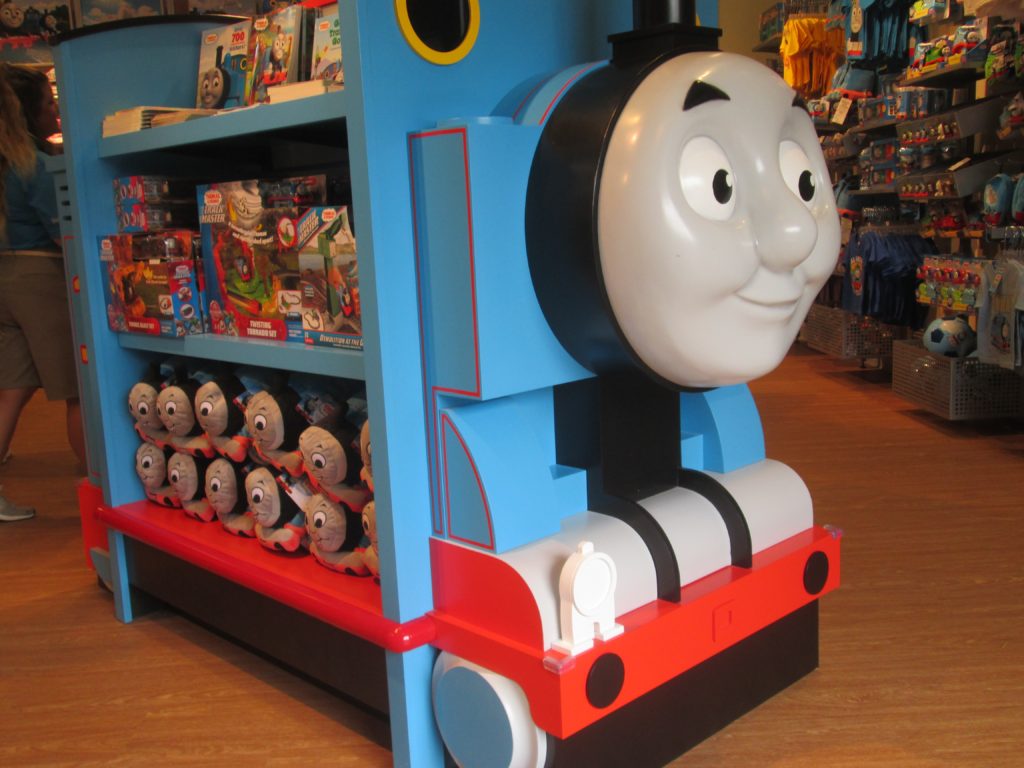 The Thomas Town Gift Co. Gift Shop is attached to the Big Adventures Play Area. The Gift Shop carries all things Thomas from toys to tshirts. You can purchase Thomas Train Sets – both Track Master and Wood sets were available. There are Thomas tshirts, hats, bottles, cups, and more. There are Thomas plushes and puzzles. Of course there are wooden Thomas whistles! There is a candy wall where kids can make their own candy mix.
The gift shop was very popular, parents can easily spend a small fortune there but with the demise of Toys R Us, the gift shop has the most extensive collection of Thomas gear in Pittsburgh.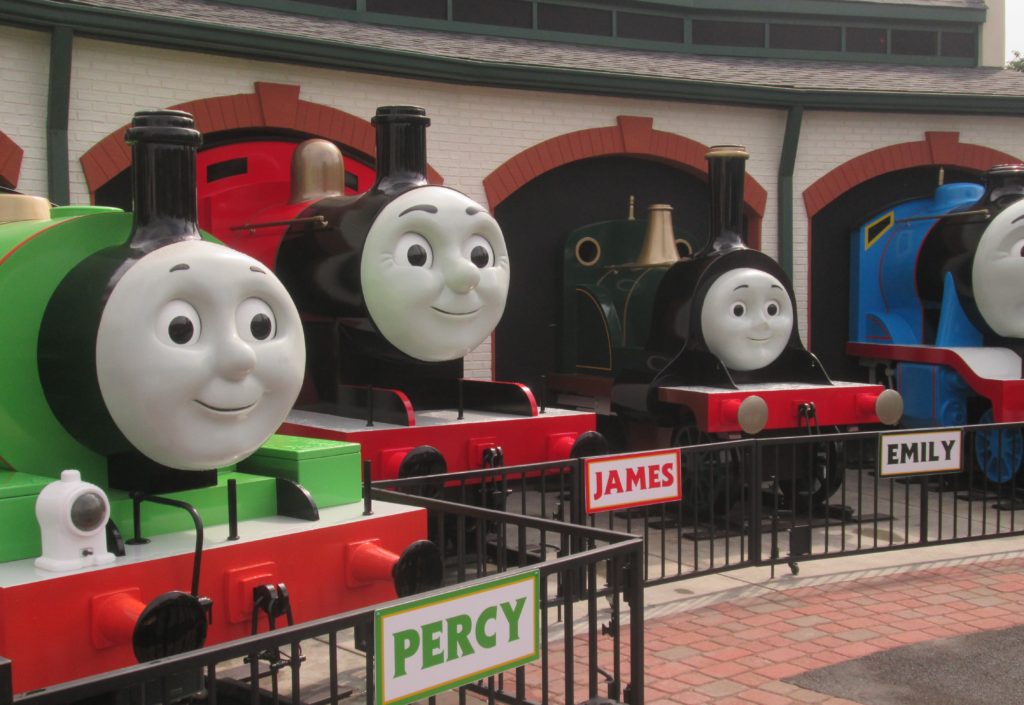 Steel City Adventure at Tidmouth Sheds
Percy, Emily, Gordon, James, and Sir Topham Hatt must get some Very Important Packages from Sodor to Thomas Town before it is too late. Watch as the Very Useful Engines work together to accomplish their task.
Percy, Emily, Gordon, and James are full-sized and animated with the voices everyone will recognize from the Thomas television show!
Shows are held at Tidmouth Sheds, inside Thomas Town, near Cranky and Journey with Thomas every day at 230PM, 530PM, and 730PM. There are a few benches by Tidmouth Sheds but expect to stand during the show.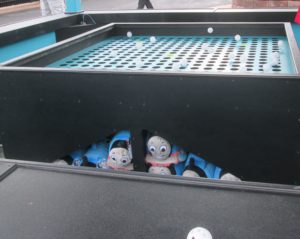 Thomas Midway Game
There is a Midway game in Thomas Town. It is a ping-pong tossing game. Win a Thomas prize if one of your ping-pong balls goes into one of the yellow- marked holes.
Party Pavilion
The new Thomas Town Party Pavilion is an indoor party room exclusively reserved for parties arranged through Kennywood's Party Page. For more information check here: https://www.kennywood.com/birthdays
Thomas & Friends: Bubbling Boilers 4D Movie at the 4D Theater
Make sure you catch the special showing of Thomas & Friends: Bubbling Boilers at the 4D Theater near the Bayern Curve. Thomas has Very Important Cargo to haul but a mishap at the Docks makes Thomas steam bubbles as he embarks on a FamilyFun adventure. FamilyFunPittsburgh loved this movie and highly recommends it. Catch it on its limited run through Friday, August 3rd. After the 3rd, special showings will be held through the end of the season.
Thomas Town is open daily at Kennywood Park. Its close proximity to Kiddieland makes it easy for parents of younger children to spend hours in the area. It was also noted that "regular" Kiddieland was less crowded as most of the families were in Thomas Town. Thomas Town does not have any food stands but it is near Kiddieland, the Pagoda, the Pizza Warehouse, the Golden Nugget, and the Cafeteria. There is only one bathroom in Thomas Town – a Family Bathroom in Knapford Station near the Big Adventures Play Area. Bathrooms nearby are the Family Bathrooms in Kiddieland and the bathrooms near the Thunderbolt and Ghostwood Estates.
Thomas Town is included in admission to Kennywood.
Kennywood Park costs $48.99 for guests 46" and taller, $32.99 for guests under 46", $25.99 for guests 55 and older, and $9.99 for guests 70 and older. Discounts are available when you buy tickets online. Nightrider passes for entry after 5PM are $9.99 through $29.99 at the gate depending on age, height, and day of the week. Kennywood has numerous discounts which can be found here: https://www.kennywood.com/plan-a-visit/discounts
Ticket information can be found here: https://www.kennywood.com/plan-a-visit/tickets-and-passes

Kennywood also has season passes here: https://www.kennywood.com/plan-a-visit/season-passes

Parking is Free but you can upgrade your parking for $7.00 cash if you choose to. Port Authority Bus 61C stops at Kennywood Park.
Kennywood opens at 1030AM with rides opening progressively at 1100AM. The Park closes at 1000PM but it can be earlier depending on weather and crowd size.
Kennywood Park 4800 Kennywood Blvd West Mifflin PA 15122 / 412-461-0500 / https://www.kennywood.com/